My father worked in the carshops and quickly became a welder. By being a welder for the NP, my father was excepted from being drafted into the Military during the second world war.

Sprawling over dozens of acres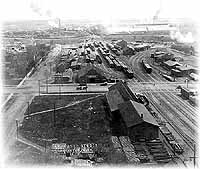 in northeast Brainerd, the Northern Pacific Railroad car shops employed hundreds of workers in box car building and repair. At that time the Brainerd car shops must have seemed like a city unto itself. Workers and equipment were able to manipulate metal, create cars or repair them.
When the whistle blew, workers were expected to be on the job. Then the foreman walked the areas and if a worker was missing another man would be sent to fill the gap. I can remember that the whistle would blow for the start of work, noon and at end of work and also any time someone was injured on the Job.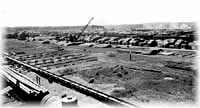 The Tie plant just south of The Tie plant just south of the Westgate Mall on the Brainerd / Baxter border operated under both the Northern Pacific and Burlington Northern railroads, treating railroad ties with oil and creosote.
The Northern Pacific was called the Main Street of the Northwest. Hundreds of people worked at the shops. Passenger trains arrived daily from the East and West. Supply trains stopped at the storeroom picked up supplies and then went to the West Coast, dropping items off along the way. Trains had cars with cooks and bunks for the long haul.
Freight cars brought in any kind of orders from cigarettes to furniture. Anyone could order 25 cases of Campbell's soup if they wanted and it would have arrived with those freight cars. Then Dray drivers, first with horses and then with trucks, then hauled the order to the various businesses in town. The railroad back in those days was an interesting way of life and Brainerd was actually built around the railroad here.

We then moved to 518 G St. NE, Mother and Dad wanted to buy this house, but it wasn't for sale. I attended kindergarten at Lowell School.